Past Residents
Meet a Resident: Cristina Cortez
Cristina Cortez (2018) is a first-generation Latin-American poet born to immigrant parents. She holds a BA in English, Creative Writing & Literature, and History with Minors in Latin American & Caribbean Studies with Honors & Distinction, from Hofstra University (2015), and a Masters in Fine Arts in Creative Writing & Poetics, from the University of Washington Bothell (2018). Her thesis, Unbound, is a cross-genre memoir about living life with a disability. She was a speaker at TEDx Everett (March 2017). Her work has been published in I Come From the World Literary Journal (Summer 2017) and La Guagua Poetry Anthology: Celebration & Confrontation (March 2019). She also writes for the United Spinal Association's New Mobility Magazine: the magazine for active wheelchair users.
Cortez has been a guest speaker at Breed Middle School's Spanish National Junior Honor Society Chapter "Rigoberta Menchu" Peace Nobel Prize, and interviewed on Radio Shows Cambiando el mundo de personas con discapacidades with Raquel Quezada (April 2019), Fortaleciendo la Familia with Rafael Disla (Junio 2019) and Conceptos TV Univision, Boston with Efrain Abreu. Cortez has attained a LEND Fellowship at Boston Children's Hospital (2019-2020).
Kait Heacock interviewed Cristina about her latest and forthcoming work.
Let's start with your new book Tawantinsuyu: Poems of the Time of the Inca. What is the through line in this collection?
For me, the theme is celebrating the culture and history of the Inca, celebrating the fact that we have such a rich cultural heritage in the indigenous empires of Latin America empires–we had empires here in the Americas before the conquests. Why not take the Indigenous perspective on history and flip it on the usual American white narrative? My intention for this book is to have a bilingual text that gives Indigenous and Latin American communities a way to see the history that they already have knowledge of through a written text that is not from the "normal" white, male perspective. I have a sensibility for the Spanish language that makes it through this whole text because I said from the get go, I have to make it bilingual.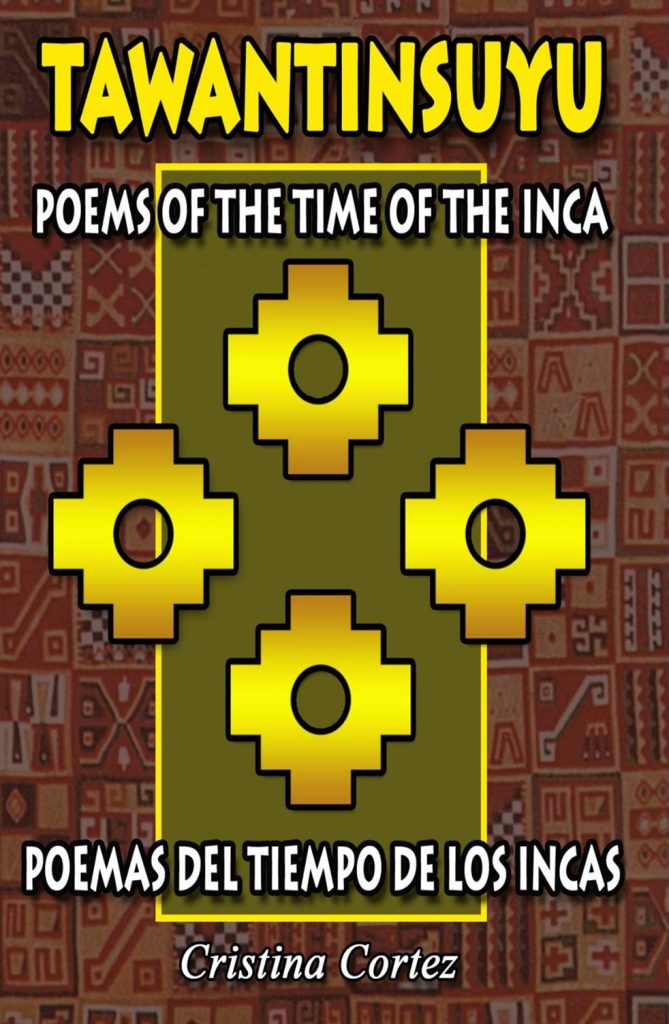 Who do you hope finds it?
Any high school or college student who is learning about Latin American history. Students of disciplines like cultural diversity, narrative structures, any discipline that is outside the normative of a usual degree. It speaks most to people who are willing to listen to the other side of history, not just the white side. There's a way of looking at history as two sides of the same coin but as one story–both stories count. I hope that this book is most apt for those who are willing to read the other side of the story.
What has your publishing journey looked like?
The interesting thing is that, while I speak it, I don't write in Spanish. I had to learn how to translate my own language into Spanish. One of my mentors, the one who wrote the foreword, Rhina P. Espaillat, is a translator and a poet. Her workshops taught me the same techniques of my masters program, but in Spanish. Rhina said it needed to be translated during one workshop and foreword. From the foreword came the publication through the publisher Books & Smith.
Do you ever find genres outside of poetry inform your work? Music, films, etc.?
The way that I work is very intuitive with my intersectionalities. I read, but I don't tend to read books for research. I tend to visually research something. I try to find videos on YouTube, documentaries. Most of the materials I used for the book are from a professor who taught for the Great Courses series. One course that I looked at was called "The Lost World of South America." That course basically gave me a visual, auditory, formal perspective on what the professor himself had researched from the perspective of probably twelve different cultural groups from Inca history.
What are you working on now/next?
Tawantinsuyu came out of a larger text that I'm working on called Jaguar, which is the whole Indigenous history of the United States and Latin America. It's a poetry project that takes together all the history of the Native American peoples of both Americas, an epic where I'm telling the myths of the Indigenous people as much as I can—I myself being descended from the Maya of El Salvador. This book could be two or three years down the road, so I decided to make a chapbook (Tawantinsuyu) so that people could actually touch it and read it before the bigger book.
Cristina is pictured below, seated, with her residency-mates and alum Kelly Froh (2016) — bottom right — who visited to talk about comics and graphic novels.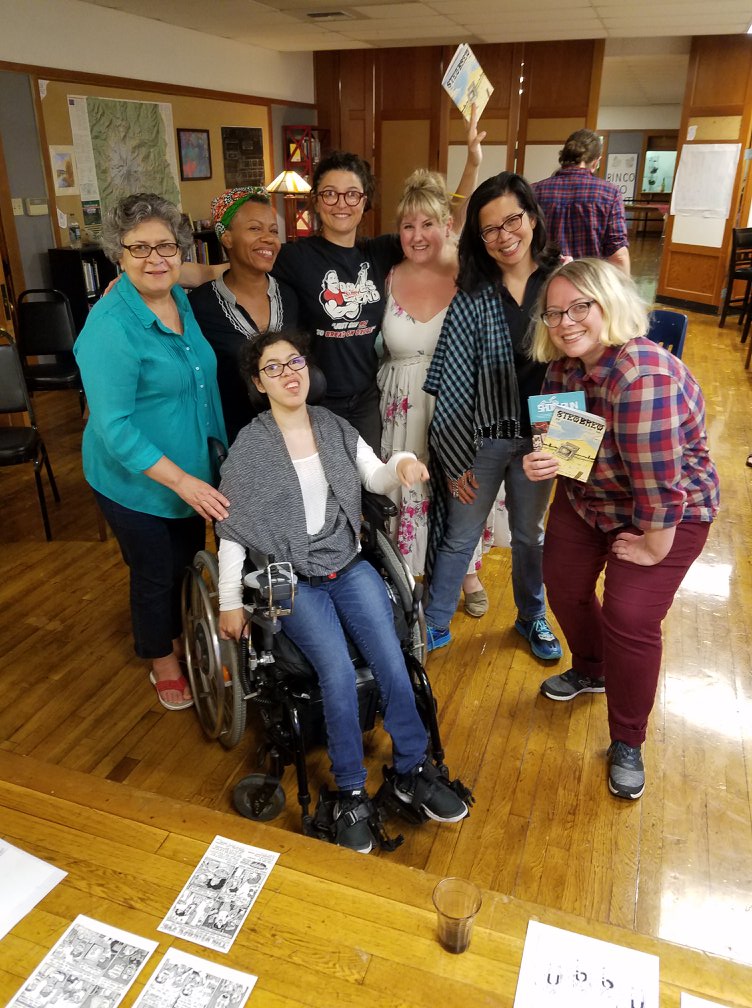 Meet a Resident: Dayna Patterson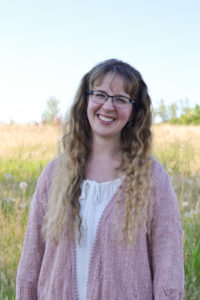 Dayna Patterson's creative work has appeared or is forthcoming in AGNI, Hotel Amerika, Crab Orchard Review, Passages North, POETRY, North American Review, Western Humanities Review, Sugar House Review, Zone 3, and others. She is the author of If Mother Braids a Waterfall (Signature Books, 2020), a hybrid collection of poetry and lyric essay that explores her Mormon ancestry and upbringing, her's mother's coming out as bisexual, and the author's eventual apostasy from the faith she was raised in. She is also the author of three chapbooks, most recently Titania in Yellow (Porkbelly Press, 2019). Patterson was a Sustainable Arts Fellow at Mineral School. Kait Heacock interviewed Dayna about her newest collection, what inspires her work, and what's next for her writing.
Let's start with your new book If Mother Braids a Waterfall (Signature Books, 2020). What is the through line in this collection? Who do you hope finds it?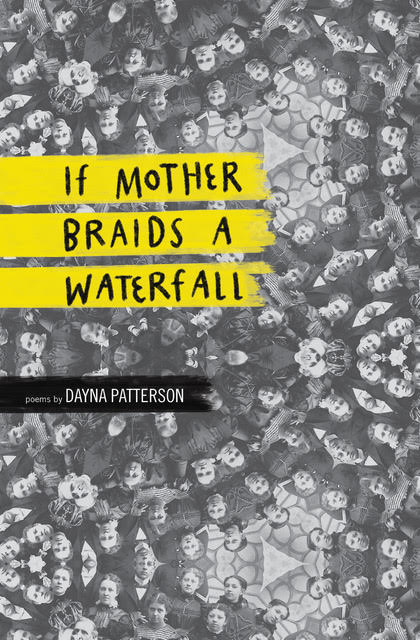 I wrote the poems and essays in If Mother Braids a Waterfall during a span of time when I was radically reorienting my ways of being in the world. After I finished writing the book, my husband read it and said, "Oh, it's about your ancestors' conversion to Mormonism and your de-conversion." I realized he was right! And I haven't found a better nutshell explanation. Throughout, there are letter poems to ancestors, living and dead, that interrogate my ancestors' decisions to convert, emigrate from England to the West, colonize Native lands, and enter into polygamy. My de-conversion was sparked by my mother telling me that she was in a relationship with a woman, that her best friend was actually much more. Because I was raised by my conservative father and stepmom, my mother's revelation was a shocker—it caused me to question everything I thought I knew.
I hope this book makes it into the hands of not only Mormons and Post-Mormons, but anyone who has ever felt (self-)exiled from a beloved community, anyone who has felt other-ed. One of the beta readers for this book is an ex-Seventh Day Adventist, and we talked for hours about the commonalities of leaving, the shame, ostracism, and crushing grief. I would like for people going through that process to feel like they are not alone.
What does it take to build a career as a poet?
I can't speak for everyone, but for me it has meant over a decade of reading, researching, drafting, and revising, leaning on the feedback of other writers I respect during countless workshops. It has meant dogged determination and perseverance. For example, I've been submitting my work to POETRY for ten years, and just last summer they published one of my poems. It has meant carving out time to write before the crack of dawn, before my kids wake up and life crashes in.
What has your publishing journey looked like?
For this book, I knew that Signature would be a perfect fit because I own and have even reviewed several of the poetry collections they've published. They have an excellent track record of publishing Mormon feminist poetry. I submitted the manuscript to them, received some editorial feedback, resubmitted, and was delighted to receive an acceptance shortly afterwards.
How does your Mormon background inform your writing?
Years of seminary and institute and scripture study have rendered me careful and contemplative with words. I was taught not just to read scripture, but to ponder it. A single verse could contain manifold meanings—how chameleon-like language can be!
Mormonism also instilled in me a deep conscientiousness and desire for "good," although I've had to redefine what "good" means for me. It trained me to seek after the praiseworthy and treat everyone and everything (rocks, plants, rivers, etc.) as housing a spiritual essence that is worthy of respect and care. It has led me to explore the concept of the feminine divine. I could go on and on. These penchants and interests help shape my writing.
Do you ever find genres outside of poetry informing your work? Music, films, etc.?
Absolutely! Lately, during COVID's isolating weeks, I've been delving into the discographies of a single composer. All of Mahler's ten symphonies, for example, starting with the first. Or all of Brahms. All of Rimsky-Korsakov. Since I'm working from home, I keep a notebook by my work station and jot down ideas as they come. I'm also finding embroidery deeply soothing, the slow art of needle pulling thread, and I've been working on a poembroidery series combining poems with paper stitchery.
Are you participating in any online readings right now? If so, how has the experience of reading into your computer instead of in front of an audience been?
I read for Thrush Poetry Journal's inaugural virtual reading, and I've been hosting a Poetry Hour through Western C.A.R.E.S. for the past few weeks. While I'm grateful for the opportunities, I sure miss being in a shared space, sharing breath, sharing laughs. It's so much harder to gauge an audience through a screen than it is in person. Plus, I'm a hugger. Can't hug a screen.
What are you working on now/next?
I'm shopping around a poetry manuscript called O Lady, Speak Again that riffs on Shakespeare (with a Post-Mormon feminist twist, of course!). (Here's a sample poem.) I'm also working on assembling and sequencing a poetry manuscript that centers on motherhood, daughterhood, and the feminine divine, particularly the Mormon concept of God the Mother. (Mormons believe in God the Father and God the Mother, though she's rarely spoken of and never prayed to.) (Here's another sample poem.) Also, poembroideries!
Dayna is below (front, second from the left) with her residency-mates from September 2019!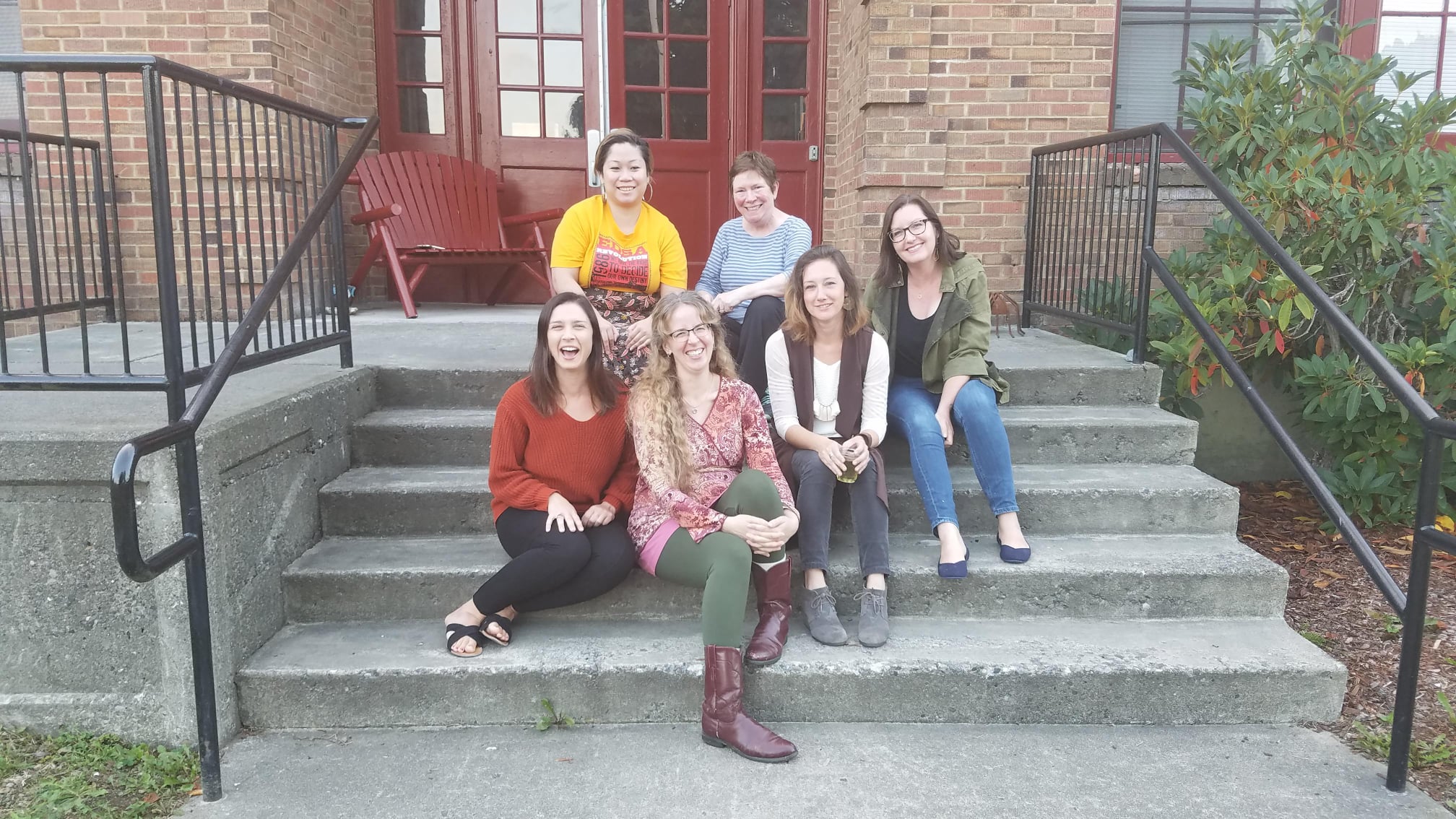 Meet a Resident: Catherine Alice Michaelis
Catherine Alice Michaelis of Shelton, Washington joined Mineral School for our 2019 residency as the Mona Lisa Roberts fellow in visual art. Catherine is a book and paper artist whose work has been collected by 85 public institutions. She is also a curator and collaborative printmaker. Read more about her work at her website. Kait Heacock asked her about her work past, present, and future.
How does nature play a role in your art practice?
Nature has been healer, teacher, and friend to me. For me, nature is integral to who and what we are and everything in our universe, including the invisible relationships between what we might call spirit and matter. Nature inspires me on this macro, alchemical, and philosophical level, but also at the level of flowers, springtime, and what's in a raindrop.
When I was a child, my grandmother Alice introduced me to the caring of plants, and it was my love for her and what she offered that opened this door. I began by learning how to make sick house plants well again. I then learned how to grow food, medicinal, and ornamental plants. As an adult I began to hike and backpack into the mountains and ocean beaches. Being outside with plants connected me to my grandmother, which was my only solace during hard times. Creating work that celebrated nature seemed the least I could do to honor both plants and my grandmother.
A lot of my creative work has ethnobotanical content, reflecting my fascination with the many ways people and plants have worked together. How art and nature intersect, especially the making of ink, dyes, and paper, grabbed my attention when I started to learn letterpress printing, and for a brief time I thought I might become a paper maker.
By studying plants, I've learned about many things — from how seeds travel to how cultures are informed by the patterned movements of planets and stars. I've made artist's books on these themes.
Right now I am thinking a lot about death. My parents are gone and I lose more friends each year than the last. Nature is life, even death is life.
You've been producing art in the Pacific Northwest since you worked on your first letterpress in the early 1990s. How would you define Pacific Northwest art?
I have never thought about what defines PNW art. I am not a historian or academic, I didn't go to art school, and only recently finished college, so I don't think I am qualified to say. I have a lot of artist friends, but we're more about creating than defining. I do see the Puget Sound environment reflected in a lot of our work, representing a care and love for the world around us. I also see a lot of support for other artists. Many people gave me a hand up, and I see that happening around me, and do the same.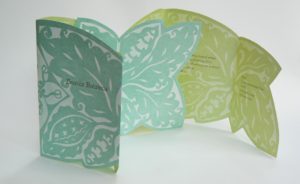 You sew, make prints, write poetry, and film movies. Do you find it easy to move between artistic mediums? What can one medium do for you that another cannot?
Sometimes it is easy to move between mediums and sometimes not. As a book artist, a lot of mediums are already available. A book artist can print, paint, write, sculpt, draw, sew, photograph, and more — just about everything. I often have my fingers in a lot of projects and I hold a lot in my head until both mental and physical space opens for me to move forward on an idea.
An artist book for me is about bringing together content and structure in a meaningful way; they have to speak to each other. For a long time my writing about plants was my artist book work and my poetry I sent out for publication. My poetry was very personal and seemed better held in other people's hands, plus I knew my family would never see it if I didn't print it. When I started putting personal themes into my artist's books I felt very exposed, but over time I've become more comfortable with that.
I started sewing text and making one-of-a-kind artist books when my mother died. My mother had sewed all her life. I was able to grieve and heal our past by sewing my writing about my mother — it's what felt right. I liked the sewing and have kept at it. I am still printing, but not as much. Printing is more about multiples and editions. When I began, I thought if I made one-of-a-kind books I would never want to part with them. Now, nearly 30 years later, nothing seems so precious to me that I can't let it go. I also have less patience for binding edition work. So it's been good to mix it up.
Video/film/photography is the medium I am having the hardest time integrating. Every new year's resolution is that this will be the year I get back into making video poems. This medium seems much like designing books. Each frame of film could be considered a page. It's also a lot of computer time, and that time is hard to find when I want to be outside and moving my body.
I am always working on multiple projects. This way when one of them stumbles, I can move to another project while I process how to get unstuck. It can be multiple artist books, or multiple mediums. I always have more ideas and projects than actual time to see them all through.
What project did you work on during your time at Mineral School? How did your time there inform your work?
Mineral School was an amazing place to be. I was offered a lot of freedom to do whatever I wanted, and I took it. I came with a memoir in process, a sewn artist book to finish, a portable proofing press and a box of linoleum for working out visual ideas, and a lot of collage materials to play with. I also had several artist book ideas floating around in my head for a while, for which I wanted to get words and images down on paper.
Before Mineral School I had been submerged in curating two international artist book shows, and what I needed was time to play and get away from deadlines, emails, and committee meetings.
Collage is a great teacher for me partly because it's not my medium, so I wasn't trying to produce work from it — just practice seeing. So collage was my warm up medium when I arrived at Mineral, and I thought it would be a daily ritual, but that was overly optimistic.
I worked much on my writing, which is my first creative love and something I find challenging to carve out time for when I have deadlines. I also made great headway on stitching "Trial by Fire," a memoir piece inspired by hot flashes and the memory challenges of menopause, but it became so much more. Stitching I could do in the social spaces of Mineral School, so I could choose to be social and still be productive.
Lastly, I came to Mineral School with a desire to be inspired by the town. What could being in this place inspire me to make that no other place would? Could I come with no idea for an artist book or video poem and leave with something substantial that represented Mineral? I was assuming it would be the flora and fauna, but then I met my first dorm mom, Jess Martin.
Jess shared a lot of information and passion for Mineral and its inhabitants. While I met interesting and lovely people, I also met the "bat house" which I visited nearly every night to watch, photograph, and film the coming and going of bats. I was fascinated and expected this to lead to something. But then Jess introduced me to the inhabitants of the Mineral Cemetery.
Inspired, I went to the cemetery every day, usually twice, to photograph, video, make rubbings, and take notes of the gravestones, pinwheels, flowers, and trees. Each night before dark I went to the bat house. It kept me pretty busy. About one week in I began writing letters to some of the people whose names I read on the headstones. These letter-poems are working their way to become a sewn artist book. It'll take some time. I want to make a video poem with all the video and photographs from the cemetery.
Where can folks see your work?
My work can be seen on my website: www.catherine-alice.com
And for local folk — I am often included in the group shows that rotate through the Sherry Grover Gallery in the Bainbridge Island Museum of Art, and nearly every artist book I create in edition is collected by the Allen Library at the University of Washington. A very small representation of my work is at Mortlake & Co. (an esoteric bookstore) in Pioneer Square, Seattle.
For out of area folk — bits of my work have been collected by 90 other public institutions around the U.S. and a few internationally. Check your local special collections library at your major colleges and universities.
What project is next for you?
I'm preparing for a broadside and print show in Olympia, WA in April 2020 at Bar Francis. The broadsides are of coffee cups making social commentary. I'll likely add some leaf and flower prints to the show as well.
I've begun collaborating with both a writer and a scientist to create an artist book on climate change and ocean acidification. This will be a printed edition and made for a science and artist book show at the University of Puget Sound, Tacoma in 2021.
For 2022, I am preparing for a 30-year retrospective. I will have the artist book inspired by Mineral ready for this show, as well as some other new work I'm developing.
That's Catherine on the top row, far left, with artists from the Class of July 2019.