Blog
Meet a Spirit: Mona Lisa Roberts
Painter Mona Lisa Roberts spent summers with her family at and around Mineral Lake and the Mt. Rainier area. Her sister, Star Roberts, channeled her for us this month. The Roberts family is helping Mineral School offer a new visual artist fellowship for an LGBTQ-identifying artist debuting this summer, in memory of Mona Lisa. Mona Lisa's paintings are hanging in the Mineral School library/multipurpose room. Here, we get to know the woman behind the art and this artist opportunity. Writer Kait Heacock conducted this interview.
What was it like carrying the name Mona Lisa? Did it feel like a name you had to live up to or that held expectations?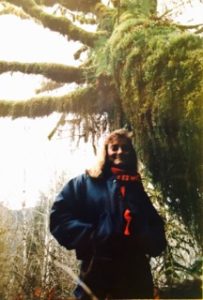 I always liked my name. It was different. When I was a kid, I went by Mona. I was the youngest of six and my older siblings called me Mona Groana when they were teasing me. I guess I fussed a lot when I was a baby. Then when I got older and really understood the Mona Lisa thing, I made it a point to use my whole name. Especially after I started painting. Friends and family would give me Mona Lisa artifacts: t-shirts, socks, keychains, coffee mugs. I thought it was pretty cool that I had a name with tchotchkes attached to it. I guess at some point I hoped it was a name I could live up to.
How did visiting Mineral Lake shape you, both as an artist and a person?
Mineral Lake was my family's favorite fishing lake. In the late '60's, when I was 11, our (second) house burned down, and we moved from small town Oregon to small town Washington. That's when we started coming up to Mineral. Our family was always big into fishing. Dad was a logger and knew where to find the good spots. We came to Mineral a lot to fish and camp, especially when I was a teenager. After I got older and left home I still came up to the lake but not as often. When I think about Mineral Lake, I'm sitting in a boat with my line in the water, waiting for a rainbow trout to bite. There's a quiet chill in the air, it's still morning-peaceful and the lake's tucked under a blanket of fog. That's its own kind of artistic experience. My regret is I never got around to painting one of those mornings.
What subjects interest you the most when you paint?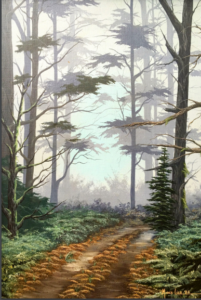 I'm not religious but Mother Nature is my church. I've always loved being out in the woods and the mountains, on the lakes and the rivers. When I'm out in nature, I don't feel judged. It makes me feel like there is something bigger than me that makes sense and I'm gonna be OK. When I started painting, that's what I wanted to paint. Scenes that reminded me of what that feels like. I'm a fan of Bob Ross. Watching him paint his happy trees was my art therapy. He reminded me that when I paint, I like to paint my happy places too. I never wanted to paint people. People were always tricky for me. Mother Nature has never let me down.
How do you define PNW visual art? Is there a certain style or tone? How does your work fit into this art lineage?
Ha ha. This question is way over my head. I think artists around here are used to doing their own thing. My older sister likes to paint psychedelic rocks. My aunt is a master quilter. I have a cousin who is a chainsaw carver. My niece is getting ready to graduate from fancy art college and wants to save the world with something called human-centered design. I guess that's the lineage I fit into. I had a mentor early on that helped me with techniques, but I was never connected to any kind of art scene. I didn't have access to other artists, especially ones that made a living through their art. I've never given much thought to how my art fits in with the rest of what's going on out there.
How much did your identity interact with your art? Did being a queer-identified woman shape you as an artist? Did being an artist help you find a voice as a member of the LGBTQ community?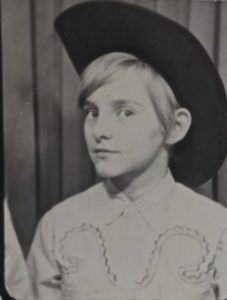 Well, this one is tricky. I think who I am and my art are kind of the same thing. It took me a long time to be able to say I'm gay and it took me a long time to make art. I still don't feel comfortable saying I'm an artist. That might be part of my insecurity about claiming who I am as a lesbian too. I met my partner after a bad marriage (mine not hers), and finally came out to my family when I was in my thirties. When I told my sister, she laughed and said it's about time, so I guess my secret wasn't such a secret. Growing up small town in the '60's and '70's, being gay was something only whispered about in a way that made it seem deviant. I was a tomboy. That was ok. Being a tomboy let me fish and chop wood and stick my head under the hood of my dad's old pickup when I felt like it.
As far as community goes, I lived with my partner for about 15 years in Renton, the biggest town I ever lived in, but there wasn't much of an LGBTQ community. Our community was the Boeing Bowling League — ha. There were a couple of work friends that were gay too but it was a small club. I had a childhood friend who was a bartender at Thumpers, a gay bar on Capitol Hill in Seattle, and we went in to the city to see him a few times. Being on Capitol Hill (this was in the'80's) was the first place I ever felt like I could be gay in public, that I could hold my partner's hand or kiss her and not be judged. But we didn't go into Seattle too often and I didn't find the LGBTQ artist community, unless gay bingo and drag shows count.
What do you hope for the recipient of your fellowship to get out of their stay at Mineral School?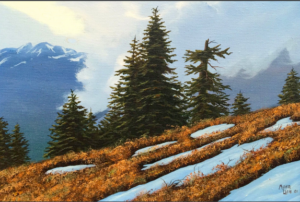 Whether they are struggling with who they are or not, it's my hope they come up to Mineral School to paint or create or do whatever puts them in their happy art place. I love that it will allow them time and space to work on their art and to explore themselves creatively, in a way that they might not get to do otherwise because, you know, life. I wish I'd gotten my poop in a group earlier (my art/life poop that is), but offering an opportunity to someone else, I think that's pretty cool. I'm psyched about the fellowship and glad that something good is coming out of my death (which kind of sucked). You could say this fellowship makes me feel like I died and went to heaven, which I totally did. And it gives me hope for humans. Go humans!