Blog
Meet a Resident: Cristina Cortez
Cristina Cortez (2018) is a first-generation Latin-American poet born to immigrant parents. She holds a BA in English, Creative Writing & Literature, and History with Minors in Latin American & Caribbean Studies with Honors & Distinction, from Hofstra University (2015), and a Masters in Fine Arts in Creative Writing & Poetics, from the University of Washington Bothell (2018). Her thesis, Unbound, is a cross-genre memoir about living life with a disability. She was a speaker at TEDx Everett (March 2017). Her work has been published in I Come From the World Literary Journal (Summer 2017) and La Guagua Poetry Anthology: Celebration & Confrontation (March 2019). She also writes for the United Spinal Association's New Mobility Magazine: the magazine for active wheelchair users.
Cortez has been a guest speaker at Breed Middle School's Spanish National Junior Honor Society Chapter "Rigoberta Menchu" Peace Nobel Prize, and interviewed on Radio Shows Cambiando el mundo de personas con discapacidades with Raquel Quezada (April 2019), Fortaleciendo la Familia with Rafael Disla (Junio 2019) and Conceptos TV Univision, Boston with Efrain Abreu. Cortez has attained a LEND Fellowship at Boston Children's Hospital (2019-2020).
Kait Heacock interviewed Cristina about her latest and forthcoming work.
Let's start with your new book Tawantinsuyu: Poems of the Time of the Inca. What is the through line in this collection?
For me, the theme is celebrating the culture and history of the Inca, celebrating the fact that we have such a rich cultural heritage in the indigenous empires of Latin America empires–we had empires here in the Americas before the conquests. Why not take the Indigenous perspective on history and flip it on the usual American white narrative? My intention for this book is to have a bilingual text that gives Indigenous and Latin American communities a way to see the history that they already have knowledge of through a written text that is not from the "normal" white, male perspective. I have a sensibility for the Spanish language that makes it through this whole text because I said from the get go, I have to make it bilingual.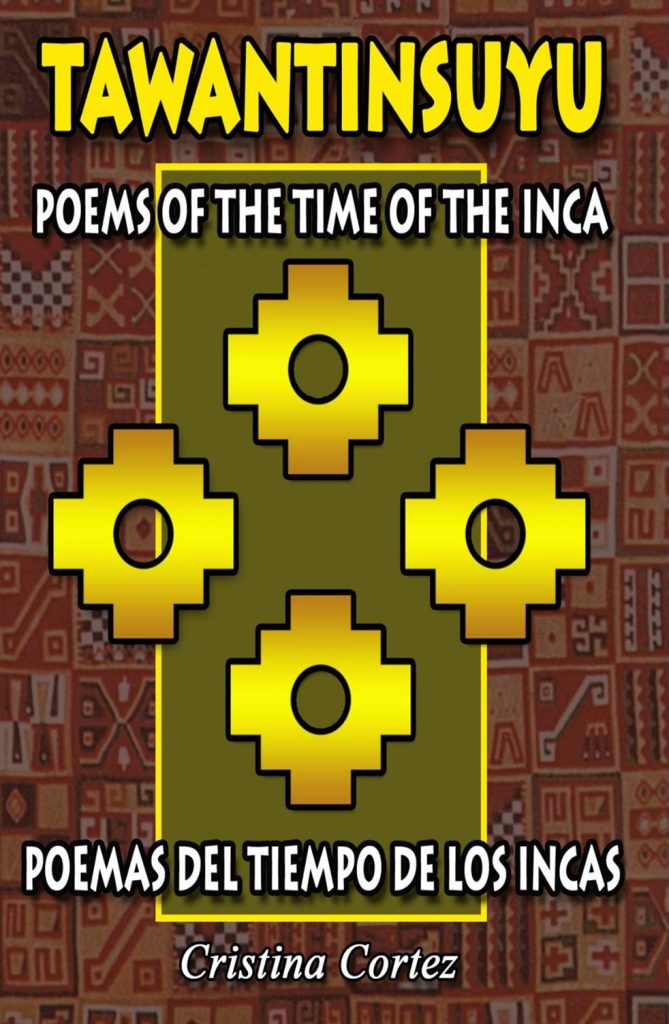 Who do you hope finds it?
Any high school or college student who is learning about Latin American history. Students of disciplines like cultural diversity, narrative structures, any discipline that is outside the normative of a usual degree. It speaks most to people who are willing to listen to the other side of history, not just the white side. There's a way of looking at history as two sides of the same coin but as one story–both stories count. I hope that this book is most apt for those who are willing to read the other side of the story.
What has your publishing journey looked like?
The interesting thing is that, while I speak it, I don't write in Spanish. I had to learn how to translate my own language into Spanish. One of my mentors, the one who wrote the foreword, Rhina P. Espaillat, is a translator and a poet. Her workshops taught me the same techniques of my masters program, but in Spanish. Rhina said it needed to be translated during one workshop and foreword. From the foreword came the publication through the publisher Books & Smith.
Do you ever find genres outside of poetry inform your work? Music, films, etc.?
The way that I work is very intuitive with my intersectionalities. I read, but I don't tend to read books for research. I tend to visually research something. I try to find videos on YouTube, documentaries. Most of the materials I used for the book are from a professor who taught for the Great Courses series. One course that I looked at was called "The Lost World of South America." That course basically gave me a visual, auditory, formal perspective on what the professor himself had researched from the perspective of probably twelve different cultural groups from Inca history.
What are you working on now/next?
Tawantinsuyu came out of a larger text that I'm working on called Jaguar, which is the whole Indigenous history of the United States and Latin America. It's a poetry project that takes together all the history of the Native American peoples of both Americas, an epic where I'm telling the myths of the Indigenous people as much as I can—I myself being descended from the Maya of El Salvador. This book could be two or three years down the road, so I decided to make a chapbook (Tawantinsuyu) so that people could actually touch it and read it before the bigger book.
Cristina is pictured below, seated, with her residency-mates and alum Kelly Froh (2016) — bottom right — who visited to talk about comics and graphic novels.