Blog
Meet a Resident: Jennifer Haupt
Jennifer Haupt (2016), a journalist and fiction writer from Bellevue, Washington, was the inaugural Erin Donovan fellowship recipient at Mineral School. Her essays and articles have been published in O, The Oprah Magazine, The Rumpus, Spirituality & Health, Psychology Today, Travel & Leisure, The Sun and many other publications. She is also the curator of a blog for readers and writers on Psychology Today's website, One True Thing. In the Shadow of 10,000 Hills is her first novel, published April 1 and she is reading throughout the Northwest at numerous events — see her site for details. Kait Heacock conducted this interview.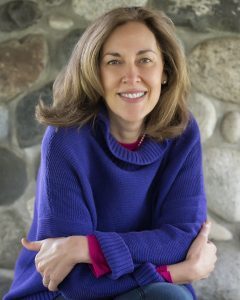 What inspires you? What inspiration do you hope people will take from your work?
I am inspired when I read a book that opens a door for me, whether that's an internal emotional place or a world view. I hope that readers of my novel will feel that at least one door has been cracked open.
Who do you admire artistically both historically and currently and locally and nationally?
I admire different writers for different things: James Baldwin for his honesty and urgency. Wally Lamb, Ann Patchett and Jonathan Evison for their huge hearts and ability to completely inhabit characters. Steve Almond, Maria Semple and David Sederis for their humorous, loving insights into the human condition. Some other Washington authors I admire as a reader and a writer include (in no particular order): Jennie Shortridge, Claire Dederer, Jess Walter, Priscilla Long… I could go on and on!
Briefly describe your residency at Mineral: How did you hear about it/get involved? What did it mean for you to receive the Erin Donovan fellowship? What did you create while there?
I was thrilled to be the first recipient of the Erin Donovan Fellowship and to have the opportunity to spend time at Mineral School. This fellowship was especially meaningful to me because it's awarded to women who are at least 40 years old. I was a journalist for 15 years before I even thought about writing fiction. I started writing fiction at age 45 and completed my first novel eleven years later!
I loved the solitude at Mineral School and the proximity to Mt. Rainer. I spent my two weeks there working on a close-to-final draft of my second novel. I mapped out plot lines and character motivations on the big chalkboards in my room and went to sleep feeling held by the story I was creating.
Tell us about your book, In the Shadow of Ten Thousand Hills. What's the story behind the story?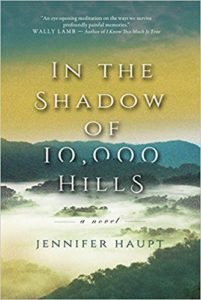 I was a journalist for decades before I became a novelist—this book was a real surprise for me! I went to Rwanda as a Amahoro is a Kinyarwanda greeting that translates literally to "peace," but means so much more since the genocide. It's a shared desire for grace when there can be no forgiveness. It's an acknowledgement of shared pain, an apology, a quest for reconciliation. I wanted to be the conduit for telling the stories of amahoro that I had heard in Rwanda. I wanted to explore more deeply the meaning of amahoro, from many different world views. I wanted to excavate my own grief more fully and, perhaps, find my own vision of amahoro. I could only do all of that, I felt, as a novelist. In the Shadow of 10,000 Hills weaves together the stories of three women, from vastly different cultures and backgrounds, who are all searching for family and personal peace in post-genocide Rwanda. These women all find amahoro.
When are you launching it in Seattle and where can Seattleites hear you read?
My book's publication date was April 1, and I'll be reading around western Washington and Oregon throughout April, May, and June. My book launch is on April 6 at Elliott Bay Books, where I'll talk afterward with Jennie Shortridge, and I'm also reading in Seattle on April 24th at University Bookstore. I'm really excited about this one, as I'll be reading with Priscilla Long, Natalie Singer, and Anca Szilagyi and talking about place as a character. My full tour schedule can be found at my web site: www.jenniferhaupt.com.
What's next?
I'm currently finishing what I hope is the final draft of my second novel.