Blog
Meet a Resident: Maxim Loskutoff
Maxim Loskutoff (2015), of western Montana, was among Mineral School's first June Dodge fellows in 2015, joining us for the residency where local forest fires meant a mix of firefighters (including inmates) tent-camped behind the school. A graduate of New York University's MFA program, Max has received the Nelson Algren Literary Award, a Global Writing Fellowship in Abu Dhabi, and the M Literary Fellowship in Bangalore. His work has appeared in dozens of journals including Joyland, Narrative, Ploughshares, The Southern Review, and others. His debut story collection, Come West and See, publishes this month with W.W. Norton. Fiction writer and super-volunteer Kait Heacock conducted this interview.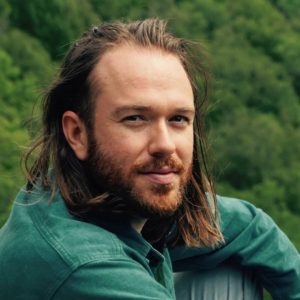 Do you read fiction while you're writing fiction? What nonfiction did you read to prep you for writing historically about the West?
Yes, but I have to be strategic about it. Some writers I love throw me into hyperdrive, jostling loose whole stories, while others I love can make me stop writing altogether–they just seem insurmountable. And still others have such strong, particular voices that if I read too much of them it gets into my work and I end up with long passages of, for example, painful, thunderous, pale
Cormac McCarthy
imitations. As for nonfiction, I've been reading
Charles Bowden
who's an absolute flamethrower, with perhaps the clearest eyes on the West, particularly the Southwest, that I've ever encountered.
Who are your personal masters of the short story?
Which writers influenced, inspired, or guided you in writing Come West and See?
My heroes are the great contemporary writers of the West: Denis Johnson (for
Train Dreams
), Sherman Alexie, and Annie Proulx. Their project of de-romantacizing the cowboy mythos while still finding beauty in the fractured reality is one I strive to continue. I believe strongly in isolating myself from European influences, as both the visual artist
Michael Heizer
and the writer
Ursula K. Le Guin
have eloquently written and spoken about. Attempting to work in a uniquely American tradition. Acknowledging the thousands of years of storytelling and art that existed here, and persisted through migration, destruction, and genocide. I just spent a month in Utah and the pictographs of the Barrier Canyon people, life-sized anthropomorphs painted on rock walls 8000 years ago, moved me in a way I can't yet express.
The collection is named for a song–and includes an epigraph–from Lucinda Williams. How else did music play a part in this collection? Are there other mediums that inspired this book?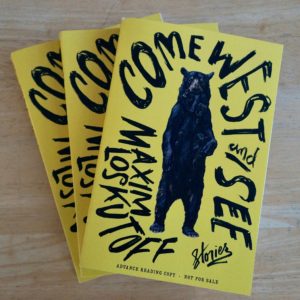 Music is an energy source for me. I look to it for inspiration when I'm stuck, and so often find something in lyrics or a melody. Songwriters John Darnielle, Jason Isbell, and Bill Callahan lit quite a few fires in this book, while William Bazinski often played in the background. As for other mediums, I'm incredibly inspired by the land artists of the West: Michael Heizer, Nancy Holt, James Turrell, Robert Smithson, and Walter de Maria. I visited their work across Nevada, New Mexico, and Utah while writing, and am forever indebted to the collisions of monumental art in the face of remote, overwhelming, wild country.
How would you characterize writing about the West? Do you see a through line connecting other writers to the West's literary legacy?
I'm not sure it's possible to characterize writing about the West. It's so vast and diverse, both geographically and culturally. Writing about Seattle or Denver is quite different than writing about Mineral. For me it's trying to capture the collisions, the break points, our obsession with wildness while we seek to tame it. Junkyards in front of mesas, coyotes on city streets… I think the first part of writing the West as a non-Native American is acknowledging that it's a history of violence and destruction, and not in the romantic sense, but the flailing sense. Of trying desperately to find a home in a place that's not ours, that's not anyone's, that was here before we came and will be here after we leave.
Did you wor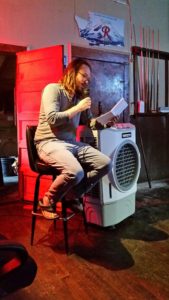 k on this book during your stay at Mineral School? If so, how did your setting up in the mountains lend itself to your stories?
I'm generally set up in the mountains, so my stories are used to it, but Mineral was unique in its character as a very particular kind of tourist town. The Lions Club campground right on main street by the lake, with families camped together in the big field, really packed in, buying bait across the street and renting pontoons. Fishing all day, fires and talking all night, going in and out of the bar. (Note: That's Max at left, reading in Mineral's Headquarters Tavern, during his time as a resident during August 2015.) It's somewhere between the camping I'm used to, which is way out in the woods, and going on vacation to a resort town. Plus there were huge fires while I was there, smoke and flames, and convict firefighters camped out in the yard behind Mineral School, so no shortage of excitement/inspiration.
What are you working on now and next?
Spirits is a novel about the breaking apart of the West, and a parable for gun violence in America. It begins when strange, headless creatures appear in the Bitterroot Valley of Montana. Though harmless, their disturbing appearance and foreignness causes the inhabitants, including Ruthie Fear, to shoot them on sight. Their carcasses are burned, releasing a massive toxic cloud that renders the entire area uninhabitable. The book then moves backward through Ruthie's life, giving hints of where the creatures came from. As time rewinds, the valley is put back together, and so is her love: with her father, her partner, and herself.
Where can Northwesterners hear you read from Come West and See?