Blog
Meet a Visiting Author: Neal Thompson
Neal Thompson is a journalist, man of letters, and the nonfiction author of several lauded biographies tracing the lives of adventurous men–including A Curious Man (about Robert "Believe it Or Not" Ripley), Driving With The Devil (about the bootleggers that got NASCAR started), and Light This Candle (about astronaut Alan Shepard). More recently, he turned his biographer's gaze on himself and his sons. The result is Kickflip Boys (Ecco, May 2018), a memoir about, in his publisher's words, "a father's struggle to understand his willful skateboarder sons, challengers of authority and convention, to accept his role as a vulnerable "skate dad," and to confront his fears that they're destined for an unconventional and fraught future." He joins us this month during our shorter-form residencies for parents, sponsored by the Sustainable Arts Foundation, to discuss his new work and share his knowledge with writers in residence about the ethics of writing your children on the page.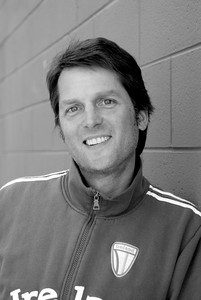 You have written biographies and now a memoir, and your background is in journalism. What, to you, makes a good story? You've said you enjoy writing about adventurous men. Is this still your key theme?
More than anything, I look for what's at stake – the conflict, the tension, how can this go wrong. And I want the reader to feel that, too. And of course, as a biographer, I'm always looking for great characters, complex and ideally misunderstood or overlooked. I'm draw to ambitious flawed characters, which is probably how I've ended up writing about bootleggers, astronauts, football players, skateboarders – and fathers. I also love telling stories that can introduce as: you might think you know the story of X, but you don't know the real story. I also love origin stories. Driving with the devil, my book about southern moonshiners, was an attempt to tell the real story of who really created NASCAR.
Who are you reading these days and why?
I just finished two Laura Lippman novels – her first, Baltimore Blues, and her latest, Wilde Lake (#20!). I'm interviewing her and her husband, David Simon – both of whom I'd worked with at the Baltimore Sun years ago — at a Seattle Arts & Lectures event in March, so I'm reading or rereading their work. Laura just keeps getting better. And David's new HBO series, The Deuce, is incredible. (As a bonus, one of its screenwriters is another favorite author, Megan Abbot.) Two recent books that floored me with their talent and scope are The Heart's Invisible Furies by John Boyne, and Gabriel Tallent's My Absolute Darling. And, since I eventually had to admit I was writing a memoir, I've read a few wonderful memoirs over the past couple years, including Claire Dederer's Love and Trouble, Dani Shapiro's Hourglass, and Joshua Mohr's Sirens.
The concept of adventurous men and the struggles they overcome to be those men begs reference to the so-called "Hero's Journey." Do you believe in the classic concept of the "Hero's Journey" plot, at least when it comes to the folks whose lives you've chronicled?
My answer is a partial "yes." I do love the story of the struggle, the messy slog we all make in pursuit of whatever it is we aspire to. I love it when my biographies are described as "warts and all" because I think the metaphorical warts are an important part of every human story. But I get hung up on the "gaining of wisdom" piece of the Hero's Journey template. I've actually driven my agent and editors crazy with my resistance to showing that "in the end, he/she had an epiphany, and it all worked out!" Few of us really knows whether we've learned anything from our experiences, and that's definitely the case with macho guys striving to reach the moon or become NASCAR's first champion. Many of the guys of written about – again, myself included – just aren't as introspective as we'd like, say, the hero of a novel to be. If we're lucky, we pause, take some satisfaction from some accomplishment, but then we just keep slogging forward.
You've turned from writing about other people to writing a memoir–about yourself, your family, your sons. How is this act of turning the lens on yourself different than studying others? Did your journalism and biography background help or hamper your efforts to tell your own truth?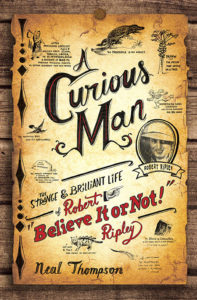 This book, KICKFLIP BOYS, actually started as an attempt at a journalistic exploration of the roots of skateboarding. I did research on the history of surfing, its relationship to the roots of skating (again, looking for that origin story), but despite a fascinating cast of characters I just couldn't find the story. Then I tried to write about a cross-country skateboarding road trip I did with a couple dads and a van load of teen boys in 2011. That story is now just one chapter in the book. I think what I discovered, all too slowly, was that memoir allowed me to flex a bunch of different muscles. I was able to apply my reporter questions to myself, my life, our family's life, and to research the roots of my kids' interest in skateboarding – and the roots of the independence and defiance that came to characterize their passion for the skate life. I found it liberating and terrifying to aim my journalist/biographer lens at my own story, at my father and brother and sons, to explore this idea that's a theme throughout all my books – namely, what does it mean to be a good man, to live a big life, to be true to yourself.
Tell us about your memoir. It's due out in May 2018, and concerns raising two sons, among other matters. What was the hardest thing about writing it — and the most necessary, to tell the tale?
It's a story about raising rebellious boys, told by a former rebellious boy. It's a family survival story, about a man and wife trying to survive the chaos of middle school, high school, and the unexpected turmoil that comes with the skateboarding lifestyle that my sons adopted. I also try to explore my fears and insecurities as a father and a husband, my inability to be patient and positive, instead of anxious and afraid – afraid that I was doing it all wrong. I wrote this because I love my boys, and I love our imperfect and adventurous family, and I believe we're not alone in our struggles to get through the turbulent teen years. It wasn't always easy convincing my wife and kids that sharing our story with the world was necessary. It took a long time for them to accept this book, and we've had many uncomfortable conversations about what stays, and what goes. My family has been incredibly supportive, but not without plenty of conflict.
How do you set rules for yourself around what is permissible to discuss about growing children, and what is not? This seems like a rulebook many memoirists who are parents (and writing about family life) must establish for themselves.
This was the hardest part about writing the book: knowing where to draw the line. I talked to my wife and the boys early on, and told them I wanted to write about the warts and all. That meant being honest about their drug use and graffiti and assorted scenes of defiance and rule-breaking. They agreed, but once I got deeper into the writing things got more complicated. I'd fact check something with the boys and hear, "Oh, you're not writing about THAT, are you?" I knew I was asking a lot of them. Still am. And our negotiations continue, even as the book has reached the copyediting stage. I guess we all came to realize the lines are blurry. Or they keep shifting. Early on I recognized that I was writing a "therapy draft." Then I started slashing pages and pages that just weren't necessary for the story. I guess the one rule I set for myself was that I always needed to write from a place of love.
You have a full-time job as well as a family. How do you find ways to stay involved in the broader literary community?
Part of my job at Amazon – providing grants to literary groups, speaking to writers at conferences – involves addressing the topic of balancing the writing life against the work and home life. Every writer knows there's no such thing as a balance. We're constantly compromising and making tradeoffs. But staying connected to the literary scene has remained a priority for me for 20 plus years. In addition to scratching and clawing to find time to write – in the mornings, on weekends, on self-imposed writing retreats – I work hard to support other writers and writing groups, which are vital to our culture of storytelling. I go to readings almost weekly. I review and promote books on social media. Though I work at Amazon, I make a point of buying some of my books from independent bookstores, and encourage others to do the same. I've served on boards, including Seattle Arts & Lectures. This community is my family, too, and I feel an obligation to stay connected and be supportive.