Artist Programs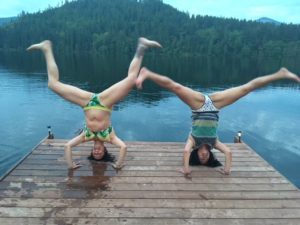 Here's our mission: Mineral School nurtures literary, performing, and visual artists to generate new work and present that work to the public. We accomplish this through both an overnight artists residency program and public events.
We have a bold vision to make Mineral School a mountainside arts oasis in the shadow of Mt. Rainier, a place where visiting visual, performing, and literary artists will work in solitude within their studios, then connect as they wish over meals and at leisure, sharing ideas and perspectives with one another and the community. We are renewing not only the 1947 school building that serves as the setting for this vision, but also artists hoping to re-center their practice.
Since 2015, we have offered overnight residencies for artists — first writers, then a mix of writers and visual artists. Residency, loosely defined, is time and space to create work. There are more than 500 residency programs in the United States, according to the Alliance of Artists Communities. Some offer day use space for local artists, while others offer an overnight getaway experience that provides creative people with room and board and space in which to focus exclusively on their art. Our residency program fits into the latter category. We offer writers and artists a comfortable place to live and work for one-week and two-week stretches during the summer and early fall months. During 2020, we'll host 20 artists, including literary writers and visual artists.
Aside from the residency program, we offer periodic events — readings, musical appearances, humanities presentations, a summer art show — both on our own and with other organizations, such as Artist Trust, Humanities Washington, Fire Mountain Arts Council, The Mineral Lake Lions Club, and Centralia College East. We've also partnered to host arts organizations, such as Seattle's Hugo House, which held a spring 2015 retreat for its writing fellows so their creative process could benefit from focused time away.