Blog
Meet a Resident: Carina del Rosario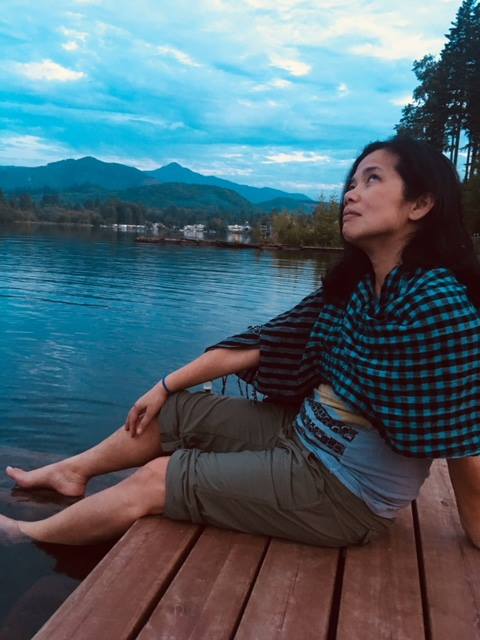 Carina del Rosario (2018) uses photography, digital media, and visual art to explore the human desire for community, and also the pull of solitude, for shrugging of ties that tangle and constrain. Whether working on specific projects about cultural communities and social issues or wandering streets around the world, she strives to capture people's lives unfolding or reflect on the evidence they leave behind. She co-founded the International District Engaged in Arts (IDEA) Odyssey Gallery, and has presented and curated work in public spaces. Mineral super-volunteer Kait Heacock conducted this interview. Seen on the right thinking deep thoughts along the shores of Mineral Lake, Carina's currently exhibiting work she curated at Seattle's Wing Luke Museum.
Could you speak about the cut paper portraits of your parents? What inspired them and why that medium?
I'd been drawing my mom over the last few years. She died suddenly in February 2017, and the landscape of the world as I'd known it radically changed. For over a year, I just trudged on because I had a big show at King Street Station to prepare. I had to teach and deal with daily life even though I felt like I was walking in deep shifting sands. I escaped to Mineral School without a clear plan, just that I wanted to be with my mom and my grief. I took anything that I thought I might use, but I quickly settled into the paper cut aways. Drawing with pencil and cutting with a blade are slow processes for me. They let me linger with each image of my mom and dad — my dad is still going strong! Drawing and cutting invited me to look closely at my mom's face, the tilt of her head, the shape of her mouth. It felt like I was embracing her. (See Carina's cut away, "Hip Hop Mom and Dad," below.)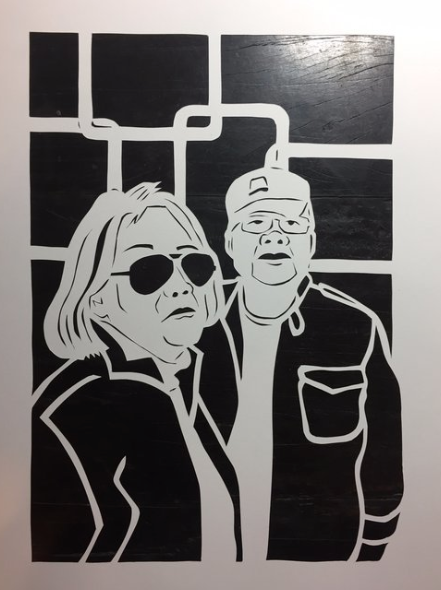 What other mediums do you work in and how do you determine which one works for different ideas/inspirations?
I started working primarily in photography a very long time ago, first with film and then with a digital camera. The digital process, though, isn't as satisfying for me, so I enjoying mixing it with other processes, like printmaking, encaustic painting, collage, paper cut aways. Photographs are now material that I transform with my hands using other tools. The ideas I have determine the medium; the more straightforward the idea, the more likely I'll stick with a representational approach. If it's more layered or complex, then I'll go with encaustic or collage.
Tell the story behind the exhibit you curated at Wing Luke, Life Wide Angle/Close Up.
In the exhibition
Life Wide Angle/Close Up
, I wanted to highlight what the International District specifically, and other Asian American and Pacific Islander enclaves more generally, means to the people who live, work, and play there. These neighborhoods have complex history. They were borne of racist policies and attitudes as well as the survival needs of new immigrants. Time and time again, these neighborhoods have been affected by various development efforts that have threatened to displace longtime residents and businesses. We're in one of those cycles again right now.
The artists I selected to be part of the exhibition each have their own deep relationship with these neighborhoods. Dean Wong grew up in the Chinatown/ID and has been photographing it for decades. Andrew Hida lived in the Hong Kong building. His 16 Square Blocks captured stories of each block that comprises the neighborhood. Melissa Ponder has been photographing the pan Pasifika communities for years. We wanted to show that even though some communities may not have a business core or hub, they share the desire and determination to gather and make a home in whatever space they can carve out for themselves. I included the Chinatown Art Brigade from New York City to make the connection to other cities that have similar histories and struggles as our Chinatown/ID, and to highlight their creative community efforts to fight gentrification. That's also the reasoning behind inviting submissions for crowd-sourced photos so we could see Asian American and Pacific Islander ethnic enclaves — Little Saigons, Little Manilas, Koreatowns, Cambodiatowns, Little Delhis — from other parts of North America.
What does the International District mean to you and how has it played a role in your art and artistic life?
I moved to Seattle after college in 1992. I was trying to be a writer and, luckily, I had picked up a free copy of the International Examiner. I started writing for the newspaper and really immersed myself in the community that way. The people I met helped further shape my perspective on social and political issues, my thinking around my own identity as a Filipina immigrant and other people's identities. I met my artist mentors there. The painter and poet Alan Lau is still the Arts editor for the Examiner. He would have me review exhibitions, films and books and interview artists. He still bombards me with stuff to check out! He's the one who introduced me to the work of John Berger, and has helped me to see. I worked with Dean Wong and was really inspired by his street photography, the way he captured what was immediately around us. Media artist John Pai, who worked at the Wing Luke Museum at the time, coached me on photography, loaned me gear, helped me learn while working with him on videos. (See Carina's "Passport Office" installation below, which was featured inside the ID's King Street Station during 2017 and reimagined the information that might be required and supplied on a passport.)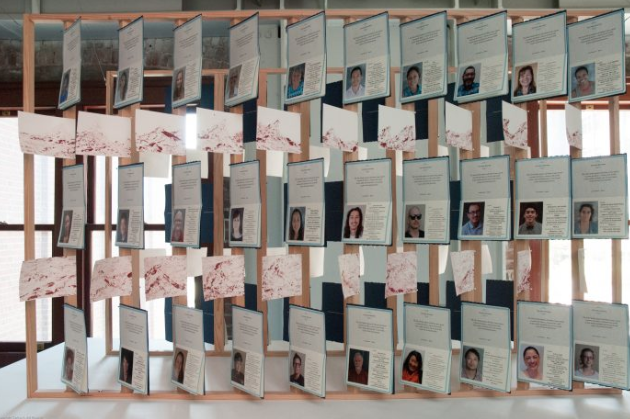 When I decided to pursue visual art more directly, I wanted to do what these guys and so many other mentors did for me. I co-founded IDEA Odyssey Collective with Minh Carrico and SuJ'n Chon to nurture other artists of color and artists who explore identity in their work. We wanted to exhibit work that could resonate with the people who live and work in the neighborhood, and also be part of efforts to serve and strengthen the neighborhood. This was around 2010-2012 and it was another formative period for me in my own development as an artist. I got to know so many artists and arts leaders, and connect to opportunities that allowed me to show, teach and play a role in a bunch of different creative efforts. The ID has been such fertile ground for me and the people I met there, who have become mentors and friends these past 27 years, have really nourished my growth.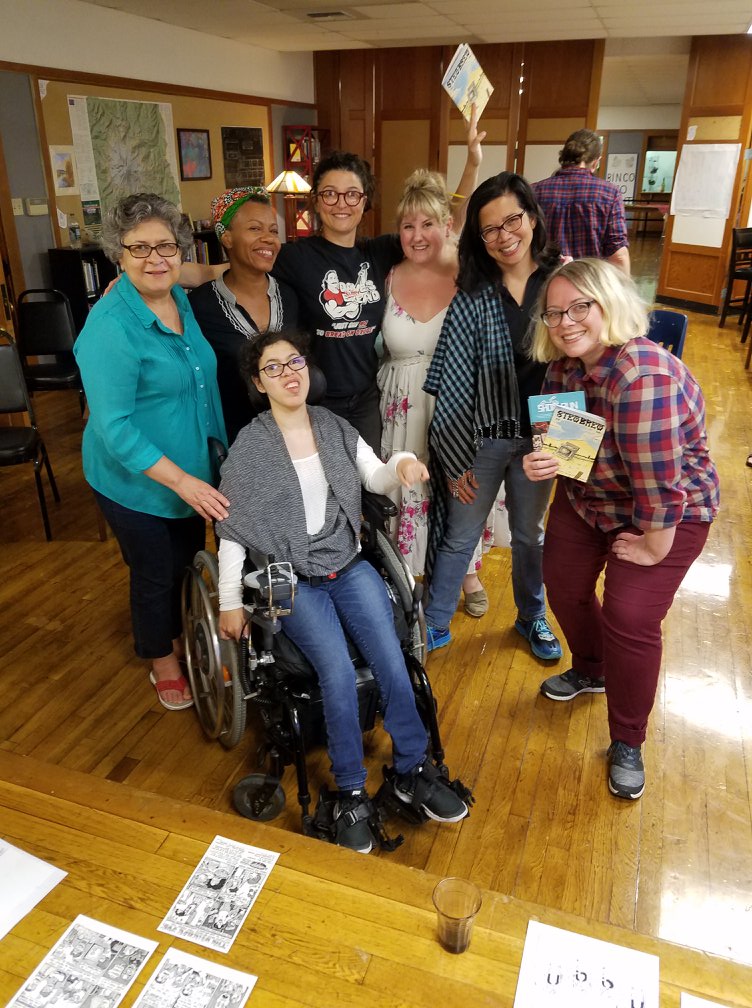 Carina is second from the right in the top row above, with her residency mates from June 2018.