Blog
Meet a Resident: Brittney Corrigan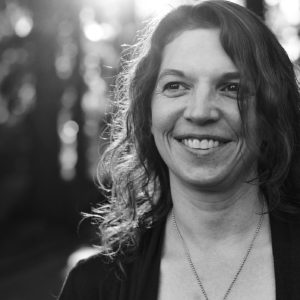 Brittney Corrigan (2017) a poet from Portland, Oregon, has published the collection Navigation (Rainy Nights Press, 2012) and the chapbook 40 Weeks (Finishing Line Press, 2012). At Mineral School, she worked on a series of poems about daughters of famous and imagined historical and pop cultural figures–including Kenneth Arnold, who spotted a UFO over Mineral in the 1940s!–and many of those pieces are now beginning to appear in print. An events manager at her alma mater Reed College, during summer 2018 she's sharing some of her rare time off to volunteer as a Mineral School "dorm mother." We're grateful to her generous spirit and the adventurous inquiry and big heart she shares through poetry. Seattle fiction writer and Mineral super-volunteer Kait Heacock conducted this interview.
What inspires you?
My favorite quote is from Henry James: "Be one of the people on whom nothing is lost!" As I move through the world as a poet, I find inspiration in the everyday, the routine, the unnoticed, the overlooked. It's the little things that jump out at me as full of potential, and then it's my job to find the metaphor in them, to crack them open, to make them larger than they are on their own. Perhaps it's ten seconds of a human interest story on public radio on my way to work in the morning, or something my daughter does that reminds me of something I used to do, or the squeak of my son's shoes on the basketball court, or a loss that comes barreling out of nowhere and hits me full in the chest. My muse is the god of small things. I also find inspiration in stories told and retold, and in the reinterpretation and re-visioning of those stories. I'm a fan of all things mythological, of folklore and fairy tales, of ghost stories and lore. Sometimes the thing that needs saying isn't in my voice, but in someone else's voice, or buried in someone else's story. I find persona poems an exciting way to explore subject matter that might otherwise be difficult or intimidating to approach.
Who do you admire artistically both historically and currently, and locally and nationally?
Historically, my own work has been influenced by the poetry of Sylvia Plath and Anne Sexton. I love the rawness and bravery of their writing. Plath and Sexton were my introduction to the genre of confessional poetry, and reading their work was like being granted permission to write about absolutely anything. They were fearless and unashamed, and though I did not see myself in their troubled personal lives, as a young writer I was taken with the vivid and authentic nature of their work. I particularly admire Sexton's Transformations poems, which also stoked my interest in the reimagining of fairy tales as a way to tackle important and uncomfortable material.
Currently, my favorite poet is Ada Limón. Her book Bright Dead Things travels to and fro with me, for whenever I have a spare moment to read a handful of poems. Locally here in Portland, I adore Annie Lighthart. She is one of the kindest and most genuine people I've ever met. Listening to her read and talk about her work is a gift everyone should give themselves. Her poems radiate simplicity and depth simultaneously, in language both familiar and startling.
Nationally, I greatly admire the poets Sharon Olds, Natalie Diaz, Joy Harjo, and Naomi Shihab Nye. In particular the work of Sharon Olds and Natalie Diaz has influenced my own writing, as they are both masters of the image. I find the language of Olds's poetry to be exquisite, lavish, vulnerable, and bold. And I'm head over heels for Diaz's use of repetition in her work and her ability to revisit an image over and over again so that it emerges as new every time.
Briefly describe your residency at Mineral: How did you get involved? What did you create while there?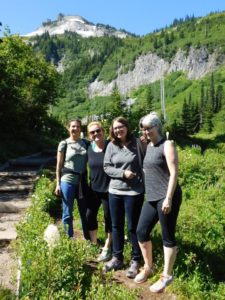 A writer friend who had come across Mineral's residency for parents encouraged me to apply for the 2017 season. I am eternally thankful that I did. I accomplished more on my Daughters manuscript in two weeks at Mineral School than I have in the three and a half years since I started it – more than doubling the number of poems in my time there. Not to mention the short story I wrote while there, after not having written fiction since elementary school.
My residency was absolutely transformative. (See Brittney, far left, hiking with her July 2017 classmates memoirist Kelly Sundberg, New York poet and folklorist Megan McGrath, and Seattle fiction writer Karen Finneyfrock.) Never before in my writing life had I had an opportunity to dedicate myself to my work for two whole weeks. From the space and solitude of the classroom, to the rich history of the town, to the gorgeous setting of Mt. Rainier, to the volunteer staff, to my amazing, talented, and kind cohort, to the delicious meals, to the intimate and fascinating conversations and adventures, I felt completely at home.
Talk a little about your poetry project on daughters of famous and/or unusual people. What inspired this avenue? Why daughters instead of another category of women? Who was one of your favorite subjects?
Several years ago, I participated in a weekend workshop in which we were asked to bring a poem that dealt with subject matter we found uncomfortable to write about. After discussing our poems the first day, we were given the assignment to write about the same subject matter in a persona poem, the idea being that writing in someone else's voice can make difficult topics more accessible, both to the writer and the reader. The exercise rekindled my interest in persona poems, and I was off.
For me, the daughter voice was natural—a character I knew I could inhabit. I wanted to explore what it means to be a daughter: eldest, youngest, middle, only. Princess, daddy's girl, tomboy, little mother, good girl, bad girl, prodigal, angel, black sheep. Chastised or cherished, overindulged or overlooked. None of these are universals. But while some women will never be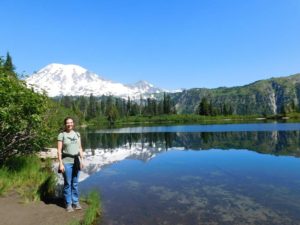 mothers, wives, sisters, aunts, or grandmothers, no woman escapes daughterhood. I was compelled to inhabit the psyches of these myriad daughters—real daughters, mythical daughters, literary daughters, daughters of bad guy fathers, daughters of haunted mothers (and vice versa). Daughters grappling for identities, daughters attempting to soothe troubled parents or atone for the wrongs of damaged ones, daughters coping with parents who in some way dealt them a rough hand.
The first voice was "Bigfoot's Daughter." (Brittney, at right, gathers inspiration for that poem by Snow Lake.) I wanted to rethink the idea of monsters, and imagining Bigfoot as a father seemed like an interesting way to do that. It ended up being so much fun that I decided to do more—the Mad Hatter, Medusa, the Bogeyman—and the series began to take shape. Daughters reimagines characters from mythology, folklore, fairy tales, and pop culture from the perspective of their daughters. And to challenge myself further, each poem has a 6×6 structure—six stanzas of six lines each.
What are you working on now? More Daughters?
I'm working on finishing the Daughters manuscript, which hopefully will be complete by the end of this summer, then I'll be looking for a publisher. My favorite daughters subjects are those whose stories are about something larger, ones for whom I'm able to give a surprising twist to a familiar story. Some favorites: "Goldilocks's Daughter" (about homelessness), "Magician's Assistant's Daughter" (about domestic abuse), and "Dorothy's Daughter" (about Alzheimer's). I'm also fond of "Medusa's Daughter" (written in iambic pentameter – why not?), and "The Hatter's Daughter" (she runs off with Alice). I have a special place in my heart for daughters of real individuals, too: "Amelia's Daughter" (which imagines what might have happened if Amelia Earhart survived on a deserted island), "Active Shooter's Daughter" (for the baby daughter of the San Bernardino shooters), and "Unknown Daughter" (written for an unnamed baby whose grave I visited in the Mineral cemetery).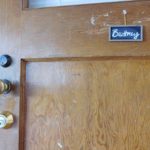 Where can we read your latest work?
"Lepidopterist's Daughter," written at Mineral, was recently published in The Pedestal Magazine. "Alien Abductee's Daughter," also written at Mineral (and inspired by the Kenneth Arnold UFO sighting) is in The Santa Clara Review. Other recent work has appeared in Mockingheart Review and Rattle: Poets Respond. A list of my publications, and more poems from Daughters, is available on my website.