Blog
Meet a Power Volunteer: Kait Heacock
Kait Heacock, a Seattle-based fiction writer, has published stories in Esquire, Joyland, KGB Bar Lit Mag, Portland Review, Tin House, tNY.Press, and Vol. 1 Brooklyn. Her nonfiction has appeared in Bustle, Crab Creek Review, DAME, Largehearted Boy, Literary Hub, The Millions, and The Washington Post. An editor for Joyland and board member at Lit Crawl Seattle, she's volunteered for Mineral School for several years doing Q&As like this and less glamorous tasks like painting and helping fundraise. She's currently working on a novel. Jane Hodges conducted this interview because Kait shouldn't have to interview herself!
Your story collection, Siblings and Other Disappointments, shows great sensitivity to the loneliness and isolation others feel even among other people, inviting the reader to develop empathy for these characters on and off the page. Can you talk about your book and the themes you hoped to convey to readers?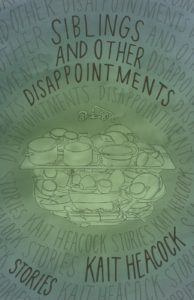 Each story in this collection is about family, in some form. Are there any other people who make you feel more or less alone than your family? These stories were written from a place of isolation, and I think that has a lot to do with so many of them being inspired my brother who died of an overdose. From about the age of nine until I was 27, when he died, I was separated from him because of his addiction to alcohol and drugs. He was physically isolated from my family, having lived by himself in Alaska for nearly two years before he passed. But the real separation was mental and emotional. There was a chasm that we couldn't seem to cross. We couldn't reach him in time, and now that chasm has been permanently etched into our family. I wanted that loss, that insurmountable distance that breaks some families, to run through the families in my collection. Not every story gets a happy ending. I wanted to be realistic about that.
What authors impress you and why? What do you look for in a story or novel?
This collection and so much of my early writing was inspired by Raymond Carver because I saw and understood my brother best when using Carver and his own writing about addiction as a filter. But I've talked and written about Carver ad nauseum, so I want to pay lip service to other authors. I find that I am inspired by female authors who take traditionally male genres and tropes and subvert them. One of my favorite contemporary authors is Megan Abbott, who writes literary mysteries. Her early work is amazing noir that either puts the woman firmly in the lead role, like Queenpin, or else uses the genre to evaluate the toxic masculinity that permeates our culture, like in my favorite of her early works, The Song is You.
In short stories, I look for control and focus, and with that the understanding of how important one moment can be. In a novel, I want authors who have confidence in their vision to stretch out and really explore their characters and themes. And I want a plot that keeps me hooked. I've been reading Sarah Waters lately, and her debut novel Tipping the Velvet is a Bildungsroman that had me turning the pages as quickly as I could.
You do a lot of volunteer work in the literary community — as an editor for Joyland, a board member for Lit Crawl, superstar of all trades at Mineral School. What motivates you to spend time giving back when you could be writing? Why should artists serve their own communities?
Building community is so important for writers because writing is an incredibly lonely experience. You have to be proactive about combating the isolation inherent in this line of work. Fiction is my way of starting a dialogue, but I don't believe in letting my writing do all the work. As I get older and have more opportunities and platforms, it's important to me that I use these to boost other writers. When I read a story I love, of course I'm going to tell people all about it. Now, with platforms like Seattle Lit Crawl and Joyland, I have more opportunity to share the writing that is impacting me with other people.
We are living in a time when our country is becoming increasingly separate, when we're so focused on the "other." Reading cultivates empathy, and I believe in the power art has to help us understand the "other" because art gets at the humanity that is at the core of all of us.
You earned a masters degree in publishing from Portland State University, then worked in book publicity in New York and elsewhere. What did these experiences teach you about what writers can do to set themselves up for success and find community as they build toward book publication?
Being a publicist taught me how important it is to get out there and meet people. We no longer live in an era where a writer can stay home and create their masterpiece for someone to discover. A writer must put themselves into the world, connect with other writers, support each other, and build a community.
I think publicity may leave a bad taste in some people's mouths, but for me I view it as a channel to connect with others and create community around work you believe in. I was very lucky to work with authors like Michelle Tea (Black Wave) and Akasha Gloria Hull (But Some of Us Are Brave), powerful and outspoken women who don't stop at the writing, but use their writing as a catalyst to create communities.
What's next for you in terms of your writing? Anything you can share about what's underway?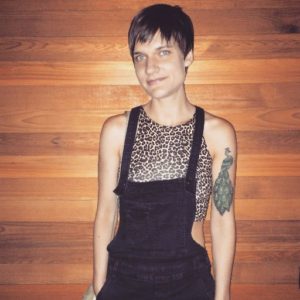 My agent is currently shopping my young adult novel–in short, it's a combination of my love of the 1987 film The Lost Boys and my interest in the riot grrrl movement of the early 90s. It asks the question, what happens when you give the most vulnerable group the power to do violence? I'm currently working on another YA novel and am about halfway through the first draft. It explores themes of technology and loneliness, and how we use technology to connect with others so maybe we can feel a little less alone.
Lastly, you've lived in several interesting literary communities, New York/Brooklyn, Portland, and Seattle. What's different about the Northwest? If you could advise a literary newcomer to any of these towns, what suggestions would you make?
Seattle has been the trickiest for me so far. Portland is smaller, but it's very open and welcoming. New York is overwhelming and there's a sense that there is always something happening, which is exciting and exhausting, so you have to be careful not to give yourself literary event fatigue. My advice to newcomers to Seattle is to be persistent. Sometimes it's hard to get people to come out for events. I don't know if it's because people are pretty spread out here or in the winter nobody wants to leave the house because of the weather, but a new writer here should try not to feel discouraged. And if all else fails, start building your own community. My friend and I started a monthly arts salon in our living room that we've been running for about six months now. Create the community you want to see in your city. Don't wait for someone else to do it for you.