Blog
Meet a Resident: Karen McInturff
Mineral School's first-ever visual artist resident, Karen McInturff, attended in August 2016. Based in Centralia, Washington, she works with fiber and also knits, weaves, spins wool, and sews. She has also been involved as both an organizer and presenting artist in ArtTrails of Southwest Washington, an open-studios festival held in Lewis County every September. Author Kait Heacock conducted this interview.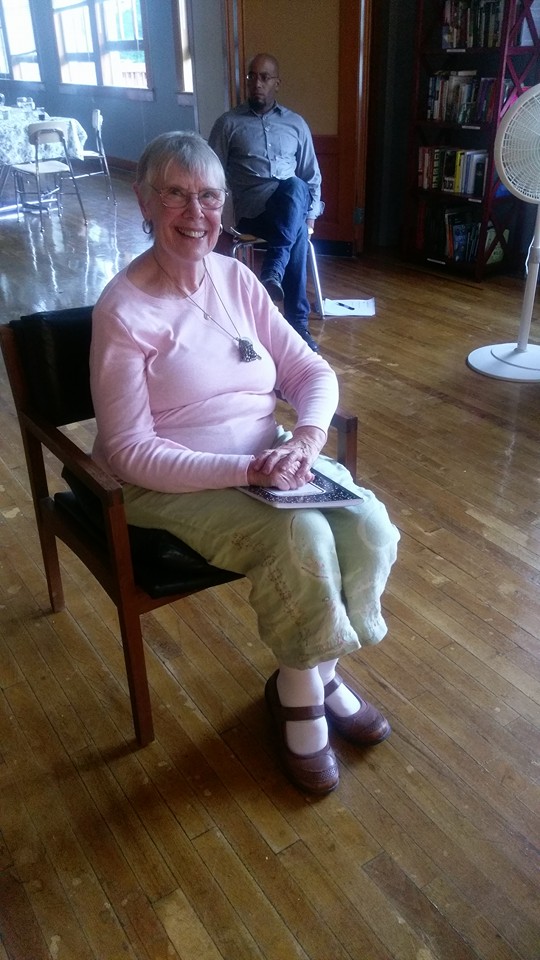 What inspires you?
The sublime and the ridiculous.
Who do you admire artistically—both historically and currently, and locally and nationally?
Art that has influenced my work includes small carved prehistoric figures like the Venus of Willendorf, the cave paintings in Lascaux, the early icons, and the art of Marc Chagall and Mark Rothko.
Are there mediums outside of your usual textile work that you're particularly interested in? Do you see any dialogue between these other mediums and your own?
Drawing, collage, batik, and assemblage. Very easily incorporated into some of the work I do.
How did you learn about the residency and get involved?
My granddaughter from Houston has been staying with us for four weeks each summer, so I was always on the lookout for entertainment and educational events that might be of interest to her. A few years ago, the Daily Chronicle reported that there would be a Mineral School event at which several resident authors would read their work. What an interesting event, for a young lady of 16 who just might be pondering her future. (Well maybe not, but I was interested.) The following year there was an announcement in the Daily Chronicle that Mineral School would be offering a residency to a visual artist from Lewis County. I applied immediately.
What did you create while there?
My time at Mineral was stimulating. We had discussions about poetry slams, zygotes, social experiences, books, and the virtues of black-bean brownies. The quiet times were most helpful as I spent those planning or working on my art. The space provided was exceptional and spacious–a very large room that served as sleeping quarters and studio. In addition there was a breezeway that was shaded and/or sunny depending on time of day that was perfect for wet felting. A large wall opposite my door served as hanging space for my projects and was great for viewing and editing.
Here are a few pieces Karen hung on the wall during our residents' art-sharing night in August.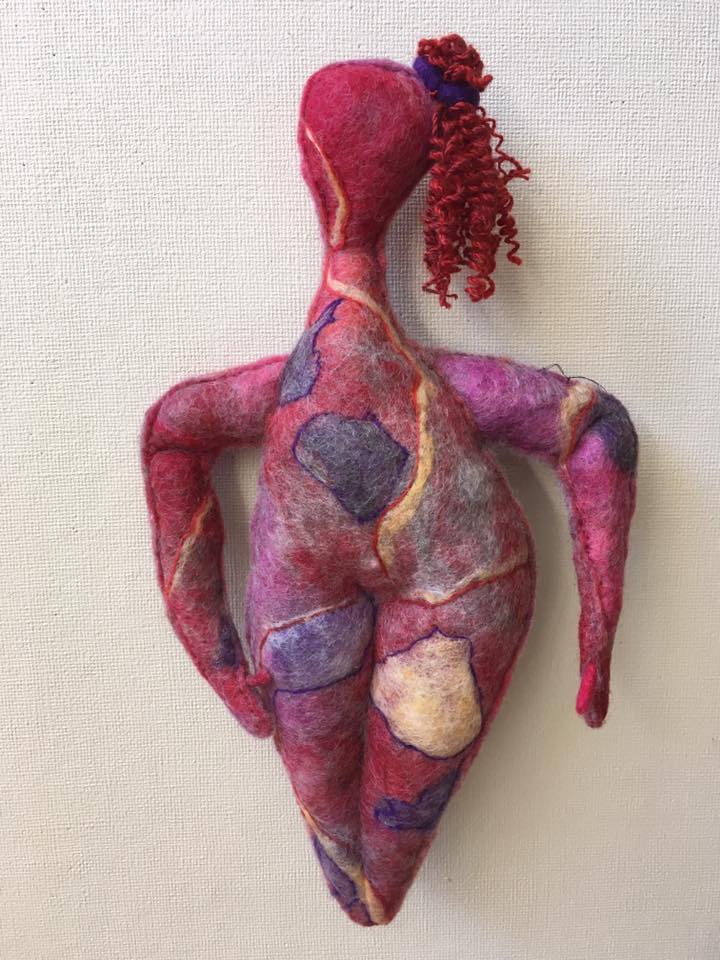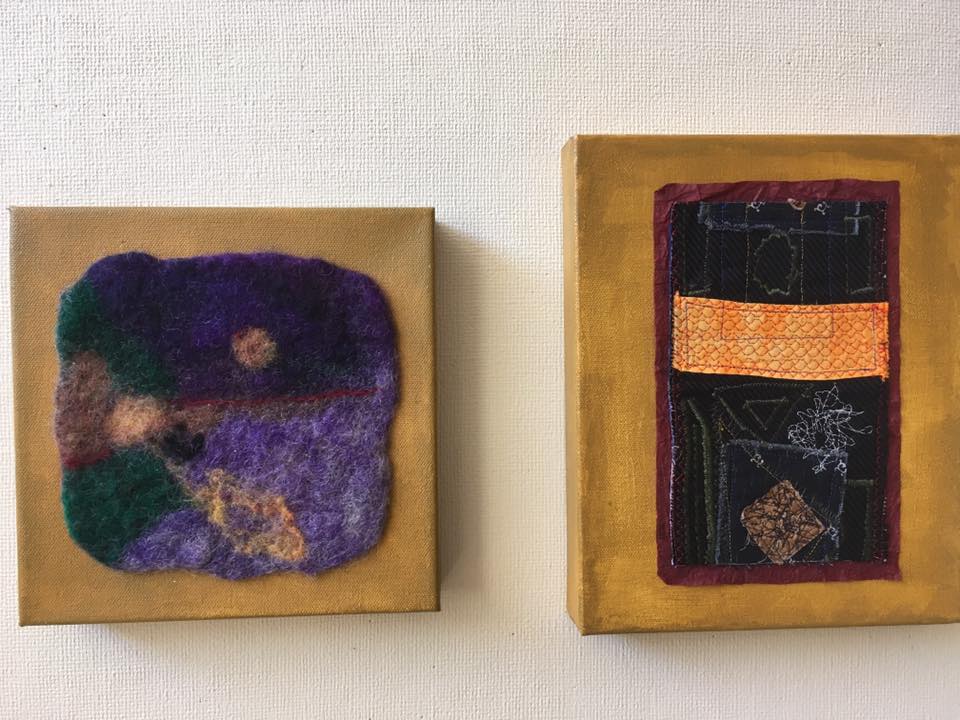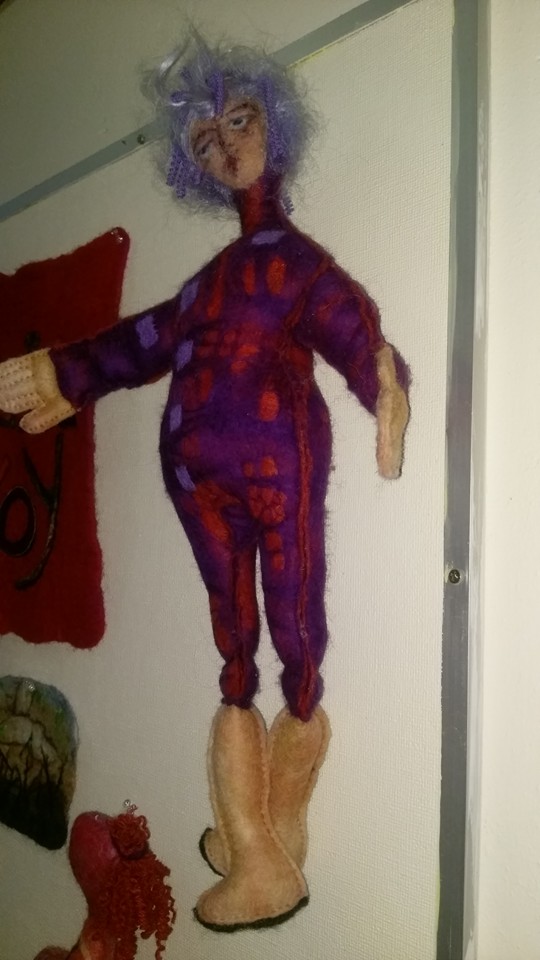 What are you working on now?
I am editing and finishing work that I started at Mineral School to ready it for viewing in 2017.
Where are you presenting work now and upcoming?
I have some work in the postcard show at South Puget Sound Community College's Minnaert Center Gallery. This year I will apply for admission to The Museum Contempo in Shelton and the ARTS Olympia Show.
Here's Karen with the entire August 2016 residency crew. Top: Board member Nicole Hardy, resident Daemond Arrindell, chef Kelly Neville, resident Rachel Edelman, and board member Dora Hale. Bottom: Resident Jennifer Haupt, resident Karen McInturff, board member Jane Hodges.