Blog
Meet a Resident: Anastacia-Renee
Anastacia-Renee
(2018) a poet and performer based in Seattle, Washington, is a queer super-shero of color moonlighting as a writer, performance artist, and creative writing workshop facilitator. She has received awards and residencies from Cave Canem, Hedgebrook, VONA, Jack Straw, Ragdale, Artist Trust, Hugo House and Mineral School. In 2017-2018, she published three collections in a single year — Forget It (Black Radish Press), V (Gramma Press), and Answer (Me) (Winged City Chapbooks-Argus Press). Her work has appeared in Literary Orphans, Bitterzoet, Radius Poetry, Seattle Review, Duende, Bone Bouquet, Dressing Room Poetry, Gramma Poetry, and many more. A supporter of artists in all media and at all career stages, Anastacia-Renee presented her fellow Mineral residency-mates with handwritten notes of thanks and affirmation before she left — showing that what goes on artistically behind the scenes matters as much as artistic labor. Seattle fiction writer and Mineral super-volunteer Kait Heacock conducted this Q&A.
What does it take to build a career as a poet?
Oh my! What a difficult question to answer. I think the building and the career and the poet are all different! I can only speak to my experience and there are five things that I know helped me build my career as a writer: 1. Persistence 2. Patience 3. Understanding that there are systemic and historical obstacles that still exist–even in 2019, and my goals, necessities, and desires may not be as easy to accomplish because of that. 4. Recognizing my worth. 5. Working hard even when no one sees it, as in 3 am, maybe even after a long day of "traditional" work.
What has your publishing journey looked like?
My publishing journey actually began in journalism. While living in San Diego, I wrote frequently for the San Diego City Beat and won the Journalism Press Club Prize for an article called "War Torn." This was my first indication that maybe…this writing thing could yield career and financial benefits. Still, I didn't declare I was a writer or take myself very seriously. A short time after I finally got up the courage to put together, edit, and polish poetry that I had been writing for years and a small publishing house decided to publish my first very freshmen book, "Baring My Soul." After that, while raising children and teaching full time, I managed to write more poems, publish poems and fiction, attend writing residencies (Cave Canem, Hedgebrook, Mineral School, Ragdale, Hypatia in the Woods, and VONA) and finally, finally, finally took myself seriously and pronounced myself a writer.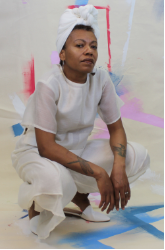 While you brought three books out in one year, they were written over a longer time period than that. Could you speak about that path to manifestation?
I believe that manifestation has to come with ACTION. I didn't know when those poems (maybe about 250-ish if you count all the books' pages) would be published, but I knew they would be…I also know that more than likely no one was going to knock on my door and ask me if I wanted to be published. Though it's true, there was definitely some magic happening leading up to the books being published and magical folks too.
You are currently Seattle Civic Poet. What has that experience been like so far and what do you hope for the rest of your term? What is the role of a poet in society?
I LOVE being the Seattle Civic Poet. For me, the experience is less about what is shown in media about what I'm doing and rather the personal and community relationships I have been experiencing. The small intimate intergenerational readings (as part of the "Speak to Me" series) or the impromptu workshops at little known places or Effective Ally workshops at the Library. I enjoy being a creative person and gathering folx together or providing little known or known poets and writers with less shine to showcase their writing. But I have to say, my favorite part has been the small moments. In this final term I am working on the Living Legacy Project where I will be (with the help of the Seattle community nominating people) choosing a few people who I think embody the term Living Legacy. The project will be a series of interviews with the LL nominees and I will be choosing writers in the city to respond to the prompt "What is your Living Legacy (now)?"I am not sure what the role of a poet in society is—but I think poets should be inspiring, creative, rebellious, change-makers, shape-shifters and in general alphabet geeks.
Who are you reading and why?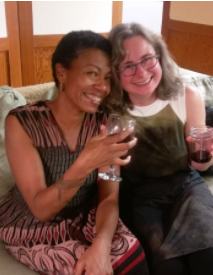 I wish I could be reading a whole lot more than I am reading and also there are so many important writers who may not be what I am reading NOW…so here is a list of the current books in rotation next to my bedside: Mules and Men (Zora Neal Hurston), Jambalya: The Natural Woman's Book of Personal Charms and Practical Rituals (Luisah Teish), I Teach Myself In Outline, Notes, Journals, Syllabi and an Excerpt from Deotha, (Audre Lorde/The Cuny Poetics Document Initiative), Dark Testament and other Poems (Pauli Murray), and Fledgling (Octavia Butler). Anastacia is pictured at right with Wendy Call ('15), in a photo from when they co-presented work to Mineral residents during summer 2016.
Congratulations on winning the 2018 James W. Ray Distinguished Artist Award from Artist Trust, The Frye Museum, and Raynier Foundation. What will you work on with this support?
First of all, after being nominated three times, I never imagined I would ever win! Second of all, I was so incredibly pleased that I was recognized in the form of my first ever prize at 47 for a "literary" achievement. What will I do with the prize money…I don't know yet but my desire is to invest in a few projects/artists/residencies anonymously so that POC's, women writers, and QTIPOCS can further their writing journeys. I will also be investing in "Queer, Mama, Crossroads," a play I wrote that will have a 15-show run at the Annex from April 4th-May 5th. In addition to that…applying, submitting, and writing.
What was your time like at Mineral School? Did you experience a bridging between the urban (your home in Seattle) and the rural (the setting of your residency)? Were there troubles/benefits of this "mutual exposure"?
Mineral School was a place where I got lots of work done. I got the kind of, sit down at the computer and pour yourself out in massive spurts kind of writing done. I was focused and came with a project and a deadline in mind. It was perfect timing. I did not experience a bridging because I didn't want one! When I go to a residency, I like to think of it as a time out from "home." I like the idea of being in a separate place to work. The only trouble I had was wishing I could spend more time! Below, Anastacia is second from the left with her June 2018 residency mates as well as Kelly Froh '16 (front, right).