Blog
Meet a Resident: Beth Pielert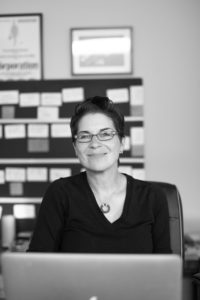 Beth Pielert is a writer, director, and producer working across mediums that include gaming, television and documentary film. Pielert formed Good Film Works in 2001 while writing & directing Out of the Poison Tree for PBS, a documentary that explores truth and reconciliation for survivors of the Cambodian Genocide. Some of her credits include award-winning films such as The Corporation, winner of 24 international Awards, including the Sundance Audience Award, and Claiming the Title: Gay Olympics on Trial, winner of the Independent Spirit Award. Beth was a Rainier Independent Film Festival fellow in screenwriting for Leaves Awaken and the RIFF fellow during the Mineral School screemwriting residency in 2019. Kait Heacock asked her about her work past, present, and future.
How do you balance the many roles of being an independent filmmaker? What's your favorite part of it?
It seems the more projects I have going, the more I get done! If I'm only working on one thing at a time then I will drag my feet. Fundraising is the most challenging, and I am in the thick of that right now. Attracting and collaborating with talent is my favorite part until I need a few moments to steal away and get to the page again—for that I need solitude and my character playlists on Spotify.
Tell me about your latest project, Leaves Awaken. Have you finished the project since you were at Mineral? When will people be able to view it?
Leaves Awaken is a six-part thriller series for video on demand. It follows Naya McQueen, a Seattle-based podcaster who is half Lummi Nation and half Irish- American. When Naya is assigned to do a story on a Bellingham bar known to have served infamous serial killers she scoffs until she discovers the bar's close proximity to her maternal Rez. Naya hasn't been on the Rez since she was a baby and her mother died. Naya's return to the Rez unearths a 25-year-old mystery that she doggedly pursues as she learns to navigate walking in two worlds, her Lummi heritage and the urban life she left back in Seattle.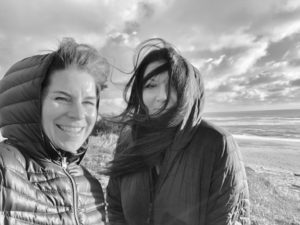 We are still in the writing stage though we have a strong pilot, deck, and series overview. I'm in discussions with a Canadian production team regarding a co-venture, and we are about to launch a fundraising effort so my co-writer Marie Clements and I will have more writing time together. As far as when people can view it, my hope is two years given the timeliness of our subject matter, Missing and Murdered Indigenous Women (MMIW), all the forest has observed and what it tries to tell us, and my deep desire to see my main characters on screen. But much of this is dependent on funding and scheduling.
For that project, you worked with the Lummi Nation. How can artists respectfully collaborate with a group they're not part of?
I'm grateful that Lummi Nation took my call and that the story and first pages appealed to them. I put it out there that I was writing this character that was half Lummi Nation and that I was not Lummi Nation or indigenous. I wanted to do this right by sharing the essence of the story and the character of Naya to see if it resonated, and explore a collaboration. I've been very fortunate to have friends and support in Washington, and I've been up half a dozen times to work with Children of the Setting Sun and my co- writer, Marie Clements.
There is a lot about my main character Naya that is drawn directly from me. She's an outsider, she's queer, she does things her own way and she doesn't fit in easily (okay that last part isn't me) but Naya is also half Lummi Nation, and for this I wouldn't be doing her character or the story justice if I was to phone in the research and take liberties with a culture that I did not grow up in. It is really important to me that I be as respectful as possible and that means enlisting help when I'm navigating unfamiliar waters. It also means being patient and listening. It's a fine line, and I make mistakes. I can also be too careful and this can hurt the story too. It can slow down the progress of the series. Filmmaking is a collaboration, but it is not a consensus art. I sometimes need to remind myself that Naya was born out of me and it's ok to let her out onto the page instead of getting too tangled up with "Am I doing this right?" and "Will they like it?"
Who or what is currently inspiring your films?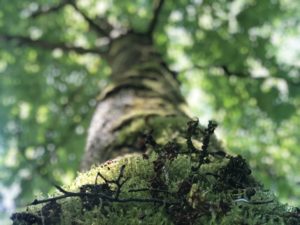 Until I was about 13 I split my time between Minnesota and Wisconsin and never felt more at home than I did among the trees. As a kid I was like a wild animal, spending entire days outside, subsisting on crab apples and wild chives. I would roam the birch and pine of Spider lake, Wisconsin for hours. At night, I would peer from our cabin, beyond the porch light, listening to the loons and hoping for a glimpse of Big Foot. I've always felt a deep intelligence, a magic beyond the trees, and a sense of wonder—and this made me feel less alone. Naya is solitary like me and has a connection to the trees, but it goes deeper as you will see when our series airs.
For Leaves Awaken, I've been studying lots of TV, and several titles stand out to me for different reasons. Sharp Objects elegantly blends memory, the veil of alcohol and the current moment—the music curation is hot too! The setting in Top of the Lake has such a great feel to it—the odd characters and beauty drew me in. The first season is gorgeous and ends with a good twist. Dark is a German series I've started. I love the lighting and cinematography and the genius weaving of characters over the span of their lives—as little kids and adults and then elders—everything is connected. Then there is this super addictive, disturbing and very well made documentary series that the Oregonian produced—Noelle Crombie's Ghosts of Highway 20. This is a well crafted true crime documentary series that feels like fiction.
What filmmaker do you think is under-appreciated whom we should all watch?
Now, that is tough because while I've seen a lot of films, my perspective is probably pretty narrow compared to someone say in Mumbai! But let me think—-okay, Mira Nair's film Salaam Bombay knocked me off my feet for it's casting of real people and the authenticity that brought to the story. I am continually inspired by my co-writer Marie Clement's who's poetic, sensual storytelling spans opera, documentary, television, and feature film: The Road Forward, Looking at Edward Curtis, and Red Snow. I recently saw Claire Denis' film High Life, and I was like WHO directed this madness? It's so original! François Ozon's Swimming Pool has a real sensuality to his films and good tension. Jane Campion for her beautiful settings and weird original characters. I'm a big fan of Film Noir and Neo Noir, so Touch of Evil and Blade Runner, but neither Orson or Ridley are under-appreciated! Chloé Zhao for her eye and working with real people—The Rider is so beautiful and vulnerable and the story excellent but she's about to take off now that's directing for Marvel. Plus, Jennifer Kent for her masterpiece, The Babadook.
What is next for you? Do you usually have more than one project you work on at a time?
While I'm developing Leaves I'm also developing a short film called The Artist and The Astronaut, which brings a former space shuttle commander and a poet and player of a deconstructed piano to the stage of a decaying San Francisco Theater. This week I am savoring work with artist Na Omi Judy Shintani, directing and editing a short documentary on her recent installation Dream Refuge, For Children Imprisoned.
That's Beth in the center wearing a beret, with her screenwriter residency gang and Warren Etheredge.